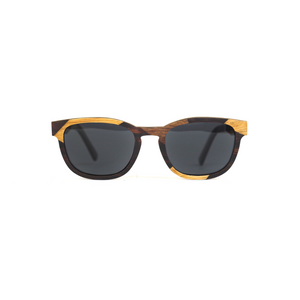 La Bordelaise II
PSIR
Sale price Price 160.00€ Regular price Unit price / per
A template of wooden sunglasses out of the ordinary, with a great deal of particular work on the assembly of the woods on the front as well as on the branches.
La Bordelaise was originally named "La Multi-bois", the idea of ​​the design having come when PSIR was in Bordeaux, its name came from there. The link between this beautiful city that crisscrosses land and ocean and the design of this mount was obvious!
The first partner opticians were won over, success was at the rendezvous for La Bordelaise. Today it is a registered and essential model in the PSIR house. Wearing it is a joy, impossible to be disappointed!
Features
- Materials : La Bordelaise is a PSIR creation. It is made from brown oak, light oak, black ebony and a Canadian maple core for strength and flexibility. A hypoallergenic varnish protects you from irritation and other various skin problems.
- Characteristics : Spring hinges, easy opening of the circles
- Frame color : coffee color, dark chocolate and cream.
- Glass tint : Black
- Glass category : UV400 category 3 - perfect for everyday use.
- Lens characteristic : polarized
- Glasses case : foldable recycled paper case
- Frame warranty : Lifetime according to conditions of use
- Reference of glasses : La Bordelaise II
To see the sizes: